Booster of quantity & quality of collagen
Anti-ageing, remodeling, firming
Active ingredient from a patented process
Extracted from the sweet white lupine seed coatings (lupeol) solubilised in oleic sunflower oil
Reasoned farming sourcing from France
INCI : Helianthus Annuus (Sunflower) Seed Oil, Lupinus Albus Seed Extract, Tocopherol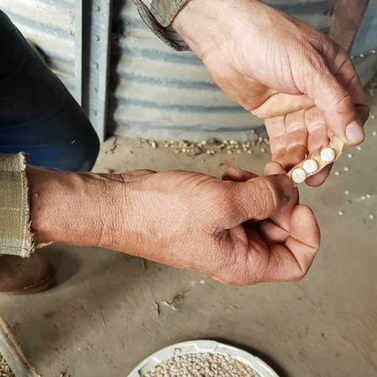 Efficiency
Stimulates the generation of high-quality collagen I 

Provides elasticity and firmness to the dermis

Remodels the sagging skin areas


French supply chain
Lupine is a legume whose seeds are very high in protein and also contain oil and minor biologically active components. This plant is an important source of molecules for cosmetic and nutritional products.
CO2LLAGENEER® is an active ingredient containing lupeol, extracted from the hulls of lupine seeds using an original patented extraction process.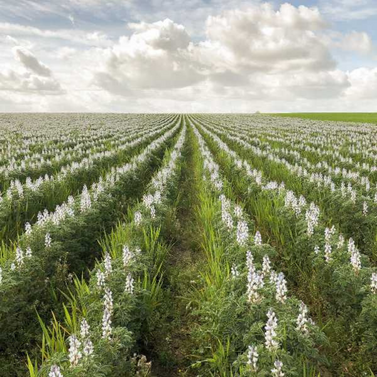 Illustration of our responsible actions
Learn more
Under the combined effect of age, free radicals and UV rays, collagen deteriorates and its quantity in our skin decreases over time. This causes the ageing skin to slacken and loosen up.

CO2LLAGENEER® stimulates the synthesis of collagen to improve the elastic properties of the skin, remodel and firm up areas of slackening!
CO2LLAGENEER® is an liposoluble active ingredient, extracted from organic sweet white lupine and solubilised in oleic sunflower oil.
100% french : the lupine and sunflowers are grown and cultivated in France and the active ingredient is also produced in France.

CO2LLAGENEER® is obtained through a super-critical CO2 fluid extraction, a process which allows us to concentrate the lupeol content found in the lupine seeds' teguments. This active molecule is then solubilised in oleic sunflower oil.
It is an upcycled active ingredient as CO2LLAGENEER® is developed from the shells of lupine seeds which are rejected from the food industry.

Our in-vitro tests have shown that CO2LLAGENEER® stimulates the production of qualitative collagen via the activation of the chaperone protein HSP47 (Heat Shock Protein). HSP47 helps develop and improve the organization of the collagen network. This protein ensures the production of good quality collagen by assisting in the perfect assembly of its structure.

By boosting the skin's collagen, CO2LLAGENEER® improves the skin's elasticity and remodels the contours of the face !
 
See as well